The Spring Benefit Auction is right around the corner! Catalogs have been mailed to all HCA members and to non-members who participated in our auctions the past few years. A copy of the catalog and a searchable PDF version are included on this webpage in case you haven't received the mailed copy yet. We hope everyone enjoys the wide array of items available this year.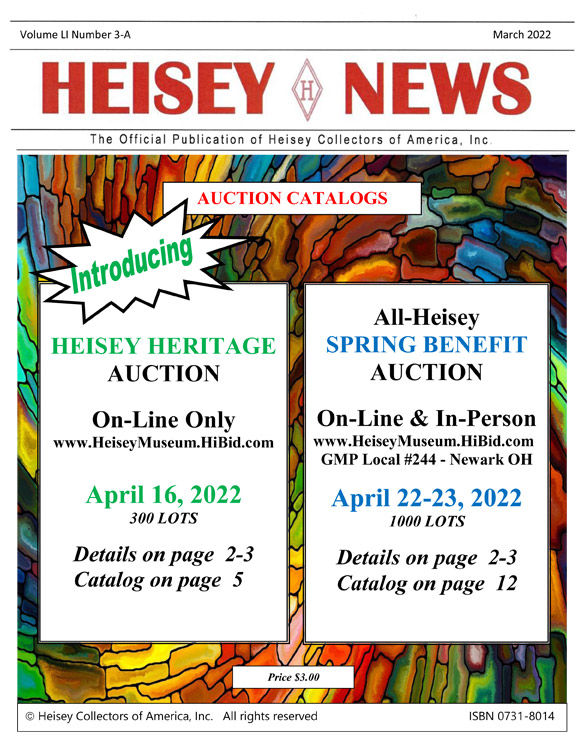 This year's auction will be held in-person and on-line. This provides an exciting opportunity for those unable to attend in person to participate and find a treasure or two to add to their collection. The online portion of the auction will be hosted by HiBid. Instructions on establishing a HiBid account and registering for the auction are included on this webpage.For those of you who are a little computer-shy, absentee bidding will be available. Instructions and the Absentee Bid Form are also included on this webpage.
Important Dates:
April 3: 1000 lots available for viewing at www.HeiseyMuseum.HiBid.com
April 15: On-line pre-bidding opens at 8:00 AM ET
April 22: Live in-person and on-line bidding begins at 9:30 AM ET for lots 1 – 500
April 23: Live in-person and on-line bidding begins at 9:30 AM ET for lots 501 – 1000
April 26: Glass available for pick-up (on-line and absentee bidders) at the National Heisey Glass Museum at 10 AM ET
May 10: Deadline for glass pick-up at the Museum
A copy of Walter Ludwig's auction highlights article featuring items from both the Spring Benefit Auction and the Heritage Auction is included on this webpage for your enjoyment.If you have any questions, feel free to email the Auction Team at auction@HeiseyMuseum.org.The annual Spring Benefit Auction is the largest fundraiser for the National Heisey Glass Museum so we hope to see you in April, in-person or virtually. And, remember, bid high and bid often in support of your museum.
HIGHLIGHTS OF THE 2022 SPRING AUCTIONS
Walter Ludwig
We have finished cataloging the items for the 2022 Spring HCA Auctions. You should have received your catalog by now (it was sent to all HCA members). This year is different in that we actually have two auctions. On Saturday, April 16 we will have our new Heisey Heritage Auction which will be an on-line only auction using the HiBid platform which was so successful for last year's auctions. On April 22 and 23, we will have the more traditional All-Heisey Spring Benefit Auction which will be both in person and online (HiBid). These auctions represent the full range of production of the Heisey Glass Company from their beginnings until the doors closed in 1957. There is something for everyone in these auctions from the standard production to true rarities that you seldom are given a chance to buy.
HEISEY HERITAGE AUCTION
This auction offers 300 lots with a wide selection of Heisey glass. Some of the highlights include two 101 Tropical Fish; Lot 5 is the regular crystal and Lot 1 is crystal frosted. Lots 109 – 120 offers a variety of Heisey salt and pepper sets, while lots 285-300 offers many hard-to-find ashtrays. Other difficult to find items include a 1245 Star and Zipper 9" nappy (Lot 40), unusual 416 handled 3 ½ oz. beer tumbler (130), and 1508 Kreimer card case (265). Check your catalog for other items. Last year's spring auction was an on-line only auction and all those who participated were surprised and happy about how easy it was to take part in the event.
ALL-HEISEY SPRING BENEFIT AUCTION
This is the auction to come to if you would like to start a collection, find the ideal wedding gift, or if you are a long time collector needing to add a special piece to your collection. I am sure you will find a treasure or two among the 1000 lots being offered. The auction abounds in those old standbys of 1503 and 5003 Crystolite, 1540 and 5004 Lariat, 1567 and 5067 Plantation, 507 Orchid etch, 515 Heisey Rose etch, and many examples from Heisey's colonial lines. This auction has an abundance of Heisey punch bowls and cocktail shakers.
The animal collector will not be disappointed with the wide array of offerings including a 104 Gazelle (494), 2 Filly head back (493) and 1 Filly head forward frosted (449), 101 Tropical Fish frosted (498), 1 Airedale on the bust off (492), and 1 Large Elephant in Amber (396).
Among the old patterns, we have many lots of 1235 Beaded Panel and Sunburst. Two great items in 1250Groove and Slash: cracker jar with lid (403) and footed cake salver (766). Lot 189 is a 1205 Fancy Loop 7"pot pouri jar with lid. The most exciting piece in the auction is probably the 325 Pillows tankard pitcher in Rose (529) – an early production color with the same formula as Flamingo; there is also a #2 salt and pepper in the same pattern (531). Lots 532 – 540 offer many early tumblers including a 150 Locket on Chain with ruby and gold décor (535).
Barware collectors will not be disappointed. Lots 615 – 617 offer three pieces of 517 Winchester etch and there are many pieces with 462 Fox Chase etch including a 4153 Whaley mug with Cobalt handle (264).Lot 622 is a 2401 Oakwood bar with the rarely seen 9042 The Sea Wolfe etch; the following lot (623) is a 4035 Bethel decanter with 878 Sea Glade cutting. Lots 541 – 543 offers a variety of 1401 Empress 8" plates with different deep plate etches. The 3000 traveler's glass (61) is another unusual item.
There are a great variety of candlesticks and candelabra in this auction. Some of the interesting ones are a pair of 140 Crocus (646) and a pair of 104 Bertha (758). There is a nice pair of electrified 1503 Crystolite hurricane lamps with 915 Amarillo cut shades (6).
Other interesting pieces include a 4057 Cecelia vase with 5020 Lily carving (102), 4092 Kenilworth comport (147), and 601 Elizabethan crème de mint (353). Plates usually do not get much attention but there are two of interest in the auction: a 1533 Wampum 7" (180) and a 1519 Waverly mayo underplate with 507Orchid etch (624) – sounds ho hum, but someone left this one in the acid for an extremely long time so it looks like an Orchid deep plate etching. There are several groupings of lots that will appeal to item and pattern collectors. Lots 195 – 203 contain a variety of 1404 Old Sandwich items in crystal and Sahara, 409– 423 have many cordials and wines, 378 – 383 has many 516 Plantation Ivy etch pieces including pieces of 5086 Plantation Ivy stems, 176 – 177 has 4083 Stanhope stems with 457 Springtime etch, 696 – 708 has many Heisey nut dishes, and 908 and 909 has demitasse sets.
There are many large lots with a variety of items in them. These are perfect for the beginning collector. But if there is something in the lot you really want, the rest of the items will make good gifts or you can consider donating them back to the Museum for our fund-raising efforts.
Space limitations prevent me from going on, but as you can see there is plenty for offer in the auction. I hope you will be able to join me and all of your Heisey friends for this great event. I look forward to seeing you April 22 and April 23, as well as on-line on April 16.
Past Spring Benefit Auction Results