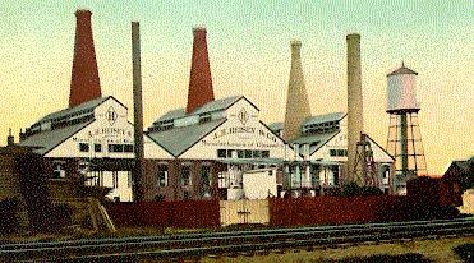 A. H. Heisey & Company History

Augustus H. Heisey was born in Hanover, Germany, on August 25, 1842, and emigrated to America with his family in 1843. They settled in Merrittown, Pennsylvania, where he attended school. His father died while he was still young and his mother returned to Germany, leaving him with a sister. After his graduation from the Merrittown Academy, he worked for a short time in the printing business. In 1861 he began his lifelong career in the glass industry by taking a job as a clerk with the King Glass Company of Pittsburgh. On August 21, 1862, he enlisted in the 155th Pennsylvania Infantry and fought with the Union Army during the Civil War. At the war's end, he had been promoted to Captain of Company C.After his discharge in June, 1865 he returned to his position with the King Company but a short time later joined the Ripley Glass Company as a salesman. It was here that he earned his reputation of "the best glass salesman on the road."George Duncan had already become a part owner of the Ripley Company and by 1873, was the sole owner. In the meantime Heisey had met Duncan's daughter, Susan, whom he married in 1870. On April 14, 1874, Duncan deeded a one-fourth interest in the company to each of his children. Terms of the sale were "one dollar and natural love and affection." The name of the company was changed to George Duncan & Sons at that time.George Duncan died in 1877 and on May 6, 1879, Heisey and James Duncan completed the purchase of his one-half interest and thus became sole owners of the company. The Duncan firm made fine handmade glass which is quite collectible today. Augustus Heisey applied for and obtained several design patents during this time.In 1891 most glass companies were having great financial difficulties and the United States Glass combine was formed to save them. George Duncan & Sons became a part of U.S. Glass, and Heisey became the commercial manager.
In 1893, after a short time out west in the mining industry, Heisey began to formulate plans for his own glass company. He chose Newark, Ohio, because the Newark Board of Trade was actively seeking industry, there was an abundance of natural gas nearby, and plenty of low cost labor was available. Construction of the factory at 301 Oakwood Avenue began in 1895 and it opened in April of 1896 with one sixteen-pot furnace. The factory subsequently had three furnaces and employed nearly seven hundred people. There was a great demand for the fine glassware, and Heisey sold it all over the world.
The production in the early years was confined to pressed ware, much of it of such fine quality and sharpness of design that it appeared to be cut. Much bar and hotel ware was also made. In the late 1890s, Heisey revived the colonial patterns with flutes, scallops and panels which had been so popular earlier in the century. These were so well accepted that from that time on, at least one colonial line was made continuously until the factory closed.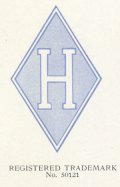 In late 1900, the trademark was designed by one of Augustus' sons, George Duncan Heisey, and the famous "H within a diamond" was registered in late 1901. The registration papers noted that the mark had been in use since November, 1900. Heisey was proud of it and insisted that all of the glass be marked. In the late years, less of the glass was marked than formerly, but today's collectors are fortunate that so much of it bears the Diamond H.

The Heisey Company was the pioneer in advertising glassware in magazines nationally and did so as early as 1910. In 1914 the company began to make blown ware which it called "Heisey's American Crystal." Not content with traditional pulled stemware, they became the first glass company to make fancy pressed stems. This idea met with approval and most hand-wrought stemware today is made in this manner.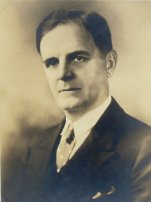 A. H. Heisey died in 1922, and after his death, his son, E. Wilson Heisey, became president. He was responsible for most of the colored Heisey glass which is so popular among today's collectors. Some colored glass had been made earlier, but first pastel colors, and later, deeper ones such as tangerine and cobalt, were in their heyday during the twenties and early thirties. When E. Wilson Heisey died in 1942, colored glass had all but disappeared from the market.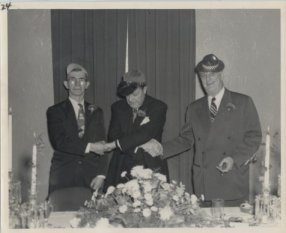 T. Clarence Heisey became president of A. H. Heisey & Co. in 1942. The war years curtailed the glass industry considerably. During the forties and fifties, the famous Heisey figurines were made. There was some resurrection of colored glass in the last few years. By this time foreign competition was taking its toll and many glass companies were once more in trouble. Increasing costs and other problems led to the company's demise. When Heisey closed the doors for Christmas vacation in 1957, they never opened again except to sell out the existing stock.
The old factory still stands today but the proud smokestacks with their Diamond H's are gone, and little is left to remind one of those glorious years when the "Finest in Glassware" was being made in Newark.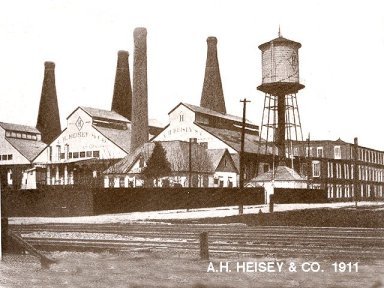 The Imperial Glass Corporation of Bellaire, Ohio, bought the existing molds from Heisey in 1958. They have used only a small portion of them, mostly patterns being made to fill existing orders when Heisey closed. Prior to January 1, 1968, part of this glass was still being made with the Heisey mark, but at that time, Imperial announced that they would no longer use it. Imperial Glass went out of business in 1984 and all of its assets were sold by liquidation in 1985. The Heisey Collectors of America organization was fortunate to be able to purchase most of the existing Heisey molds formerly in the possession of Imperial.
Heisey owed its beauty to an excellent glass formula, high quality raw materials, and to the way it was finished–fire polishing and grinding and polishing the bottoms of most pieces. Glass made today is heavier, duller, and not ordinarily as well finished on the bottom, and is inclined to have sags in it. A careful study should enable any collector to tell the difference.