Written by: Caitlin Clay, Beaumont, TX – Summer 2015 Intern
Heisey News, August, 2015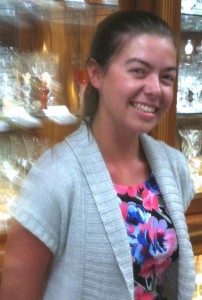 In the March 1928, No. 22 edition of Table Talk, the Heisey Company announced its new advertisement campaign entitled "Glass Secrets". The ad campaign ran from 1928 until 1929, and was featured in many common household magazines, such as Vogue, House and Garden, Good Housekeeping, and Woman's Home Companion. These magazines were purchased by over 4 million people, and Heisey was one of the first large companies to utilize full page, colored advertisements in magazines to reach these buyers. Heisey sought to enchant buyers with the idea that glass was "full of adventure, romance, glory and success", and the advertisements utilized the paintings of commercial artist and illustrator, Gustaf Tenggren, in order to achieve this goal (Table Talk). Tenggren's paintings were joined with elegant descriptions of Heisey's glass, as well as a picture of a Heisey dinner setting, stemware, or other glassware. Heisey's depiction of the romantic mythology of glass's evolution through history can still be viewed in the reproductions of the advertisements hanging on the National Heisey Glass Museum's walls, however, Gustaf Tenggren, the artist who played such a major role in the illustrations, often goes unrecognized for his work.
Gustaf Tenggren was born on November 3, 1896 in Vastergotland, Sweden. His parents, Aron and Augusta, had seven children, and Tenggren was the second youngest. Tenggren's father, Aron was a painter and decorator, a trade passed down to him by his father, and an occupation to be held by Tenggren as well. After the family moved to the Swedish countryside, Aron left for the U.S. to find work, and Tenggren and his siblings subsequently grew up without the presence of their father. This lead Tenggren to have a very close relationship with his paternal grandfather, who encouraged his grandson to practice and hone his artistic talents. At the age of eleven, Tenggren began to work as a runner boy and apprentice at a lithographer's shop. By the age of thirteen, Tenggren was attending art school on a scholarship, as well as working his everyday jobs. He received his first illustration and portrait commissions while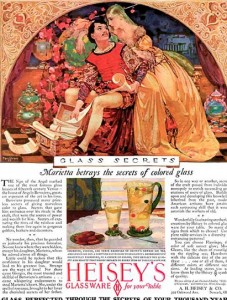 attending school, and he also painted decorations for public buildings. By 1918, Tenggren had landed a job illustrating Bland Tomtar och Troll, which translates to Among Gnomes and Trolls. Bland Tomtar och Troll was an annual Swedish fairytale and folklore publication, for which Tenggren drew pictures for over eight years, and for ten volumes. He also married his first wife Anna Peterson during this time, and by the summer of 1920, Tenggren and Anna had moved to the United States. They settled into a home in Cleveland, Ohio for two years, but then moved to New York. Tenggren's career continued to grow, and while in New York, Tenggren became a highly sought after commercial artist. It was during this time he was hired by Heisey.
Tenggren created six large oil paintings for Heisey's "Glass Secrets" campaign. The first advertisement was printed in the various magazines' March/April publications, and was featured only in black and white. It depicted the ancient Greeks discovering raw, uncut glass, and also included a photograph of Heisey's 12", 1203 floral bowl with floral block and vase. The Greeks' awe of uncut glass was meant to be paired with the reader's amazement of the simple elegance and beauty of the floral bowl.
The May/June advertisement was printed in full color, as were all of the following advertisements. This strategic choice allowed Heisey to not only represent Tenggren's rich use of color, but also promote its gem-like colored glassware. This second ad illustrated the story of a Venetian maiden whispering to her lover the secrets of her father's colored glass recipes and was accompanied by a picture of Heisey's 4206 Optic Tooth 5 oz. and 12 oz. sodas, 3 pint tankard, and a 1225 plate, all with Moongleam handles or teeth.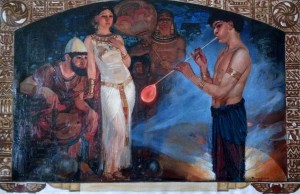 The third advertisement was published in the September/October magazine editions and portrays Egyptian nobility admiring a glassblower blowing a glass bubble on a pipe. Heisey paired the story of the discovery of blown glass with a photograph of items in Flamingo, including a 1224 plate without handles, 1229 Octagon sandwich plate with open handles, 1229 Octagon 13" hors d'oeuvre, 8" oval dessert used as a salad bowl, and 3370 African 8 oz. goblet. The original painting used for this advertisement is unique not only because of its rich colors and details, but also because it can be studied and admired at the National Heisey Glass Museum. The Museum is fortunate to have the artwork framed and hanging in the Louise Ream's Library within the addition to the King House.
Heisey continued the "Glass Secrets" campaign for November/December magazine issues by having Tenggren depict a Roman noblewoman receiving a glass vase from a Roman youth. The illustration was followed by a short description of the Roman festival of Saturn, a gift-giving celebration similar to Christmas. The advertisement included an image of a 4027 footed diamond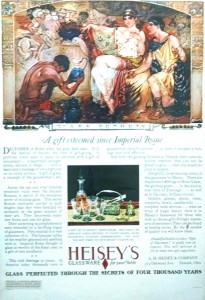 optic decanter with a 48 cut stopper, 4206 Optic Tooth 12 oz. sodas, 500 Octagon ice bucket, 413 Tudor cigarette holder, and 1184 Yeoman handled bow-tie ashtray, all in Moongleam.
The "Glass Secrets" campaign continued for only two more advertisements; one in the March/April magazine publications, and one in the May/June magazine publications. The March/April ad told the story of King James the II of England and how his court would toast his health by drinking out of glasses a yard long. Tenggren's painting included King James sitting at his table with merry courtesans drinking out of iridescent glasses as long as their legs. Heisey included a brief history of the creation of flint glass beneath the illustration, as well as a photograph of 1252 Twist plates, 6" and 8", a 12" oval platter, and 12" three-toed floral bowl. It also included two stemware, a 3368 Albemarle with a flared bowl, and a 3380 Old Dominion with a cupped bowl. The May/June ad illustrated the myth of Peteronius, a Roman nobleman sentenced to death by Emperor Nero. Tenggren depicts Peteronius as a ruddy, handsome young youth surrounded by beautiful noblewomen while celebrating his last night alive. He holds a glass pitcher up to be admired by himself and his fellow merrymakers. This final advertisement depicted Heisey's 1252 Twist pressed-ware, including the 6 oz. soda, 12 oz. iced tea, 9 oz. soda, and 3 oz. oyster cocktail, all footed and presented in Marigold, as well as an ice tub in Marigold.
The end of the "Glass Secrets" campaign marked the brief, but memorable, relationship between Heisey and Tenggren. However, it was only the beginning of Tenggren's success as an artist. In 1935, Tenggren ac-cepted a job position as Head Art Director at Walt Disney's Studios in Los Angeles, California. He painted landscapes, cityscapes, and other artwork for the background of "Snow White and the Seven Dwarfs", and many of his paintings were extremely influential in designing the interiors of the dwarfs' cottage, the Queen's laboratory, and the forest. Tenggren also worked on "Bambi", "The Ugly Duckling", "Hiawatha", and "Fantasia". One of his biggest contributions was to the scene development of the movie "Pinocchio".
Tenggren left Walt Disney's Studios in 1939 and began illustrating his own books, as well as working with The Golden Press, the creators of "Little Golden Books". One of the most famous books which resulted from this working relationship was The Pokey Little Puppy, which has reached millions of readers. Tenngren and his second wife, Mollie, spent their last years together at their residence in Southport, Maine. Tenggren never returned to Sweden after his initial move to the U.S., and he passed away from lung cancer on April 6th, 1970. Mollie lived for 14 more years, and she donated many of Tenngren's artwork to the Kerlan Collection, which is one of the world's greatest children's literature research centers.
Though Tenggren's name is often unheard of by the many readers and viewers of his work, his artwork has been appreciated for decades. His name is gaining new recognition however, with the publication of a Swedish book dedicated to presenting his life and artwork. This book is tentatively scheduled for publication in English, but may take quite some time before it reaches the United States. Nevertheless, Tenggren's artwork can also be enjoyed in person, and should you happen to be visiting the National Heisey Glass Museum, you have only to make your way to the Library to experience one of Tenggren's magnificent paintings.
Sources:
www.gustaftenggren.com
Table Talk, March 1928, No. 22 edition
Heisey on Parade, by Sandra Stout, 1985