Percy and Vivian Moore Memorial Weekend
October 14, 2021

-

October 16, 2021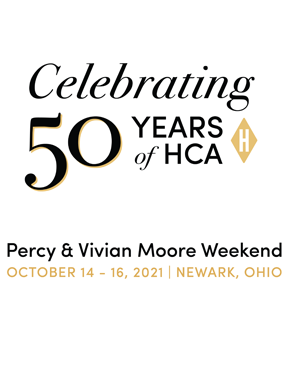 Plan to attend the Percy & Vivian Moore Weekend Oct. 14 – 16
Book your hotel room early!
PURCHASE YOUR TICKETS HERE
It has been far too long since we have gathered in Newark for a Heisey event, so it's time to make plans now to attend the Percy and Vivian Moore Weekend (PVMW) Oct. 14, 15 and 16. This long-standing event is an important fundraiser for the National Heisey Glass Museum. And, equally important, it is an enjoyable opportunity for Heisey enthusiasts to socialize and talk about glass – buying it, collecting it, and admiring the highest quality table glass made in America. Make plans now to come to Newark for this year's event! Planning is still underway for this weekend, however, the schedule is coming together:
Thursday evening, Oct 14
– Night at the Museum hosted by the HCA Board with heavy hors d' oeuvres, sweets and a cash bar tended by our HCA President, Charlie Wade. There will be plenty of time to socialize, check out auction glass in Gallery 3, and once again admire your favorite pieces of Heisey glass in the museum cases. Members will also have an opportunity to buy and sell glass in the lower level of the museum. More details about the glass sale will be shared soon via E-Gram and the September
Heisey News
.
Friday evening, Oct. 15
– The banquet is scheduled for the spacious Virtues Golf Club Restaurant and Bar in Nashport, which is a 15-minute drive from the museum. The restaurant is still working on its fall menu so dinner choices are not yet available; expect to see them in the September
Heisey News
.
Saturday afternoon, Oct. 16
– The 2021 Dave Spahr Fall Select Auction at the GMP Local #244 Union Hall in Newark will feature 352 pieces of Heisey glass. While our online spring auction was a huge success, nothing beats the opportunity to examine and admire all the beautiful glass in person and the excitement of live bidding with a skilled and entertaining auctioneer. We are also planning a mini fundraising auction as part of the festivities. If you would like to donate a piece of glass or a gift basket to be auctioned please contact HCA Secretary Mary Olson,
marythereseolson555@gmail.com
or 612-597-1284. If you are coming to PVMW, you may bring your donation with you and drop it off at the museum when you arrive. If you are unable to attend but would like to donate an item for the fundraiser, you may mail it directly to the museum.
The Percy and Vivian Moore Weekend registration form will be in the September Heisey News.
In the meantime, reserve your hotel room now!
A block of rooms has been reserved at the Hampton Inn Heath/Newark. They are available to our group at the rate of $85 per night, Oct. 13 through 17.
Call 740-788-8991 to book as soon as possible. Rooms will be held for our group only through Sept. 12.
They will be returned to the hotel's inventory of available space Sept. 13. Don't delay! The staff at the Hampton Inn is excited to welcome back their many Heisey friends.