2022 HCA CONVENTION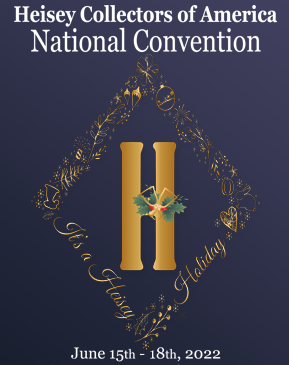 ISN'T IT TIME YOU HAD A HOLIDAY?
We have the solution for you!
Knowing that many have missed celebrating various holidays these past two years, please join us as we celebrate "It's A Heisey Holiday!" at the Heisey Collectors of America 2022 Convention and Elegant Glass Show, June 15-19, 2022.
As co-chairs for Convention, we look forward to assisting you with your plans to share your love of special holidays with old friends and new collectors.
Plans are underway for many returning events as well as some new offerings. Opening evening picnic always brings Heisey friends from across the country together- this year even more special as the years we have missed due to Covid. You will not want to miss Thursday morning brunch as we honor our special "Valentine" Volunteers. Informative seminars during the show hours, presented by our HCA members, will encourage you to re-visit the spectacular table displays for more ideas, then return to the dealer booths to purchase a few more pieces of outstanding glass for your collection. Friday night banquet offers time to brag about the beautiful and exquisite piece of Heisey purchased at the fabulous glass show. The Canal Walk Flea Market on Saturday offers another chance of finding a special piece of glass to use at your next "Holiday."
"It's A Heisey Holiday" is a marvelous way to spend time together with those who appreciate the finer things, and holidays, of life! How will you share your favorite holiday?
Emie Heisey
Suzanne Parker
2022 Convention Co-Chairs