2020 HCA CONVENTION
June 17, 2020

-

June 20, 2020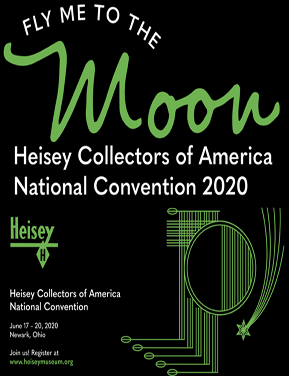 Dear Heisey Collectors of America and Visitors,
After much discussion and heartache, the Board of Directors has voted to cancel Convention 2020 until further notice. This was another difficult decision, but we must keep the health and safety of our entire HCA family as a priority in these uncertain times.
I would like to thank Jennifer Heisey and Geoff Heisey for all of their hard work, and I am happy to share that they have graciously agreed to co-chair Convention again in 2021. I'm excited to see what they come up with for our 50
th
Anniversary! I would also like to thank the Elegant Glass Show Chair, Linda Greenwood and Show Display Chairs Dan and Sue Kilgore for their hard work and dedication! At this time we are planning to expand the Percy and Vivian Moore Weekend in October, and I look forward to sharing more details with you soon. Please take good care of yourselves. Every one of you is important to me! Stay safe and stay well. xoxo – Emie
---
2020 Convention
Registration
Schedule of Events
Poster/Ad
Glass Show & Sale
Heisey Mini Show
Flea Off the Square
Open House
Message from Convention 2020 Co-Chairs Geoff Heisey and Jennifer Heisey Hello fellow Heisey collectors, HCA sponsors an annual convention and glass show to fulfill an important part of HCA's mission by bringing together collectors, dealers, historians and interested individuals for an extended weekend of activities in an environment to learn, grow and celebrate a passion for Heisey glass. The convention and glass show serve to grow membership, encourage philanthropic support and generate new sources of revenue for HCA and the Museum. As Convention co-chairs, we are committed to exploring new programs and opportunities to encourage first-time participants. A challenge that many organizations face is the recruitment of a next generation of members and supporters. We intend to foster an environment that celebrates the traditions that the long-time members hold dear while exploring exciting, fresh offerings that appeal to newcomers. Planning is well underway for this year's Convention, themed "Fly Me to the Moon." We are having fun utilizing the Venus cutting as our design inspiration and Moongleam green and black as our color scheme. In order to fulfill our big dreams to make this an exceptional convention, we need the help of the membership to contribute ideas, share your expertise, volunteer your time and help us enlist support. We'll share more in future editions of Heisey News and through social media as we finalize our plans. If you have ideas or feedback to share, contact us by email at
HeiseyConvention@gmail.com
. We hope to see you in June!
Save the Date
Please mark your calendars for June 17-20, 2020.
Registration
---
A special message from the convention co-chairs:
A successful convention takes a team effort. Thanks to all of you who have reached out to ask us how you can help. In this email you will find more information on various ways to participate, including:
CALL FOR VOLUNTEERS
CALL FOR PRESENTATIONS
CALL FOR AUCTION ITEMS
CALL FOR NOMINATIONS (new this year!)
CALL FOR VOLUNTEERS:
We need your help to make this convention a success. If you are willing to assist us in a volunteer capacity, please email
HeiseyConvention@gmail.com
so we can discuss opportunities that match your time commitment, passion and expertise.
CALL FOR PRESENTATIONS:
Each year we offer interesting, insightful and educational seminars throughout the weekend. We are seeking ideas for these sessions and ask that you submit suggestions for topics and/or presenters by emailing
HeiseyConvention@gmail.com
for consideration.
CALL FOR AUCTION ITEMS:
What would the convention be without the Silent Auction and Live Auction? These auctions are both very fun in their own special way. To make them a success we need your help! Many study clubs donate thoughtful items to the silent auction. 100 % of the proceeds go to the HCA, so we are asking all study groups to please consider donating something for it. Then there is the live auction at the banquet. It may be hard as a collector to part with something special. But, we all have wants and making room for a wanted item just might make it more of a reality. Please consider donating a desirable item to the live auction. These should be a little more interesting than just the run of the mill item.
CALL FOR NOMINATIONS:
We thought we would have a little fun this year at the banquet and give some recognition for all of the hard (but fun) work that is being done for the HCA. These awards offer a unique opportunity to thank those who stand out in advancing HCA's mission. These awards are a one time trial for this year's convention, but who knows …. To nominate yourself or someone else, please send an e-mail to
HeiseyConvention@gmail.com
including the following information: name of nominator, name of nominee, award category for consideration, contact information for both the nominator and nominee and a written summary describing why the nominee is qualified for the selected award category. Also, please attach any photographs, articles or other supporting documentation that would assist the committee in making a decision.
Flying Mare Award | Distinguished Service
Dedicated members who, through their service, make an outstanding contribution to HCA are usually overmodest, unpaid and unthinking of reward. Nonetheless, recognition is important. An action that begins with unbridled passion for Heisey glass, evolves into aiding the advancement and the preservation of the history of the A.H. Heisey Company. This award provides that recognition for someone who faithfully renders outstanding service to the HCA.
Toujours Crystal Apple Award | Education
Champions of research, education and the life-long study of Heisey glass are integral to the growth and understanding of members and collectors at large. This award recognizes individuals who have published educational articles in Heisey News and proactively share historical knowledge and expertise of the A.H. Heisey Company and it's elegant glassware
Fox Chase Wild Things Award | Collecting
Collecting is an endless journey of discovery. Our members spend countless hours "out in the wild" finding Heisey treasures. This award highlights those ambitious collectors who are committed to the quest for a unique find at an unbelievable price.
Fandango Newcomers Award | New Members
New members to an organization are the pipeline to the future. This award celebrates ambitious newcomers who have made an immediate and meaningful impact on HCA within their first five years of membership.
Tally Ho Study Club Award | Impact
Study clubs are the lifeblood of the HCA. They serve as a vital resource to build communities of passionate people who dedicate their time, talent and treasure to the organization. This group award recognizes members who, together, have made a bold impact on the education, preservation and promotion of Heisey glass while finding unique ways to financially support the priorities of the HCA in the past year.
//
If you have any questions or ideas about how to make the Heisey Convention extra special this year, please reach out to us any time at
HeiseyConvention@gmail.com
. We are committed to making the experience fun and interesting to our collectors (you!) and bringing in support for HCA. With your help, we know this will be a great success. Thanks in advance! See you in June,
Geoff Heisey & Jennifer Heisey