HIGHLIGHTS OF THE 2018 HCA SPRING BENEFIT AUCTION
by Walter Ludwig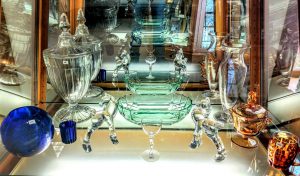 We have finished cataloging the items for the 2018 Spring HCA Auction.  After four full days we have 1,394 lots for you to consider.  These offerings represent the full range of production of the Heisey Glass Company from their beginnings until the doors closed in 1957.  There is something for everyone in this auction from the standard production to true rarities that you never are given a chance to buy.
This is the auction to come to if you would like to start a collection, find the ideal wedding gift, or if you are a long time collector needing to add a special piece to your collection.  The auction abounds in those old standbys of 1503 and 5003 Crystolite (including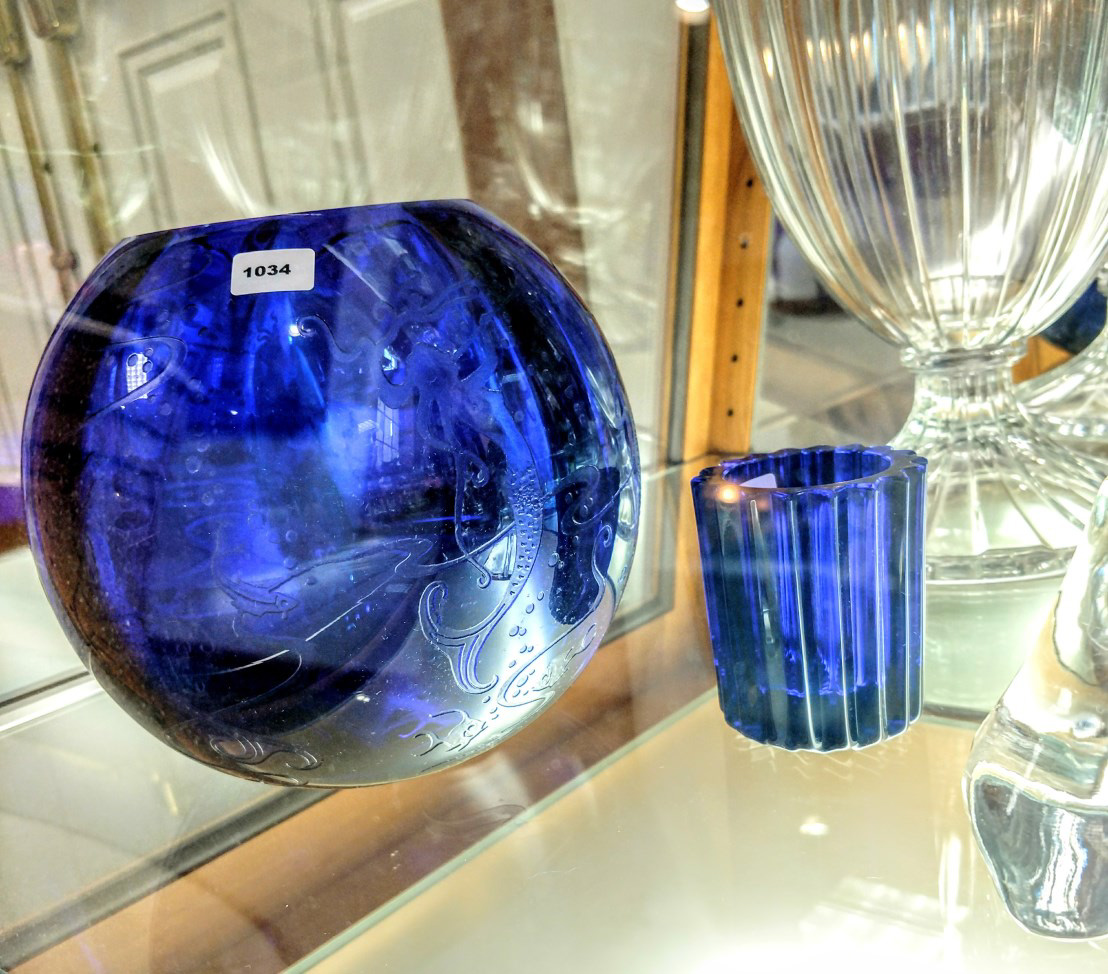 Lot 691, the rarely seen 5003 blown comport), 1540 and 5004 Lariat, 1567 and 5067 Plantation, 507 Orchid etch, 515 Heisey Rose etch, and many examples from Heisey's colonial lines.  This is an auction rich in candlesticks and baskets, but also this year we have an outstanding number of smaller stem pieces including cordials, wines, clarets, and cocktails.
This auction is especially heavy with 1469 Ridgeleigh with runs of the pattern at lots 115-193, 649-675, and 944–954 which includes 15 pieces of the blown 4069 line.  Special pieces of Ridgeleigh include four roly poly cocktail sets being sold choice (658 A-D), a cocktail with the variant stem (950), and the 8" three sided vase (666).  This year we also have a large selection of 503 Minuet etch (1144-1164) as well as a lot of four dinner plates (54).  There is quite a lot of 1401 Empress in Sahara throughout the auction including lots 19–44.  This auction is especially rich in pieces of 150 Banded Flute with many rare and unusual pieces (lots 1165-1168, 1185-1188, 1225-1228, and 1231-1243).  Included are a two piece oyster cocktail with a seat in the bottom piece (1242), footed schoeppen (1231), root beer mug (1232), and many unusual sizes of stems and sodas.  There are also two 10" high footed compotes (575 and 1165).  The #1 water set (1227) as well as the #3 bedroom set (1228) are also being offered.
The animal collector will not be disappointed with the wide array of offerings including both Fillies, head back and head forward (lots 1011 and 1012).  Almost every figural stem is represented including the rarely seen 5047 Dancer's Leg cocktail (417).
Among the old patterns, 1205 Fancy Loop is represented with an ice tub (569) and a footed cake basket (568).  We have a full set of 465 Recessed Panel candy jars including an 8 pounder (293-298).  Lot 1250 is a 4 piece griddle set in 473 Narrow Flute with Rim.  We also have a 353 Medium Flat Panel measuring cup (1251).
Outstanding pieces in color include a 1519 Waverly footed candy in Amber (78) and a 1218 Simplicity 9" plate in Vaseline (1096).  There are 1401 Old Sandwich 8 ounce beer mugs in Amber (1036) and Cobalt (928).  Other interesting pieces in Cobalt includes a 4045 Heron 6" ball vase with 469 Mermaids etch (1034) and a 1469 Ridgeleigh square cigarette holder (949).  Lot 350 is a 1415 Arch tumbler in Tangerine.  There is a 1488 Kohinoor 13" floral bowl in Zircon (585) with some damage to the bottom rim – but it is gorgeous.  An interesting stem is the 3386 Diamond Rose sherbet in Sahara (409).  Also in Sahara is an elaborately cut 4225 Cobel Cocktail shaker with four 4002 Aqua Calientes (1040).
Candlesticks are exceptionally strong with examples spread throughout.  Of special note are a 31 Jack-Be-Nimble toy candlestick in Moongleam (1321), a 109 Petticoat Dolphin candlestick in Sahara (604), a single 127 Twist Stem candlestick in Flamingo (112), and a pair of 105 Pembroke 6" candelabra in Moongleam (820).  We also have a 300-5 Old Williamsburg 5 light candelabrum complete (300).
We have an especially good group of colognes in this auction including a 4035 Seven Octagon with Duck stopper in Moongleam (696), a 515 Taper in Hawthorne (694), and the super rare 1405 Ipswich cologne (693).
Other interesting pieces include a 1567 Plantation cigarette box (1255) and a 1486 Coleport ice bucket with two sodas (280).  A great advertising piece is a tin store sign for Heisey "Moongleam, The Green Supreme" ware (603).  There are two whimseys in the auction – these are pieces that were not made for production: a 1506 Provincial basket that was made by adding a handle to a sweet pea vase (9) and a 3350 Wabash 13" vase made from the tankard (194).
Space limitations prevent me from going on, but as you can see there is plenty for offer in the auction.  I hope you will be able to join me and all of your Heisey friends for this great event.  I look forward to seeing you April 13 and April 14.