Highlights of the 2018 Dave Spahr Fall Select Auction
by Walter Ludwig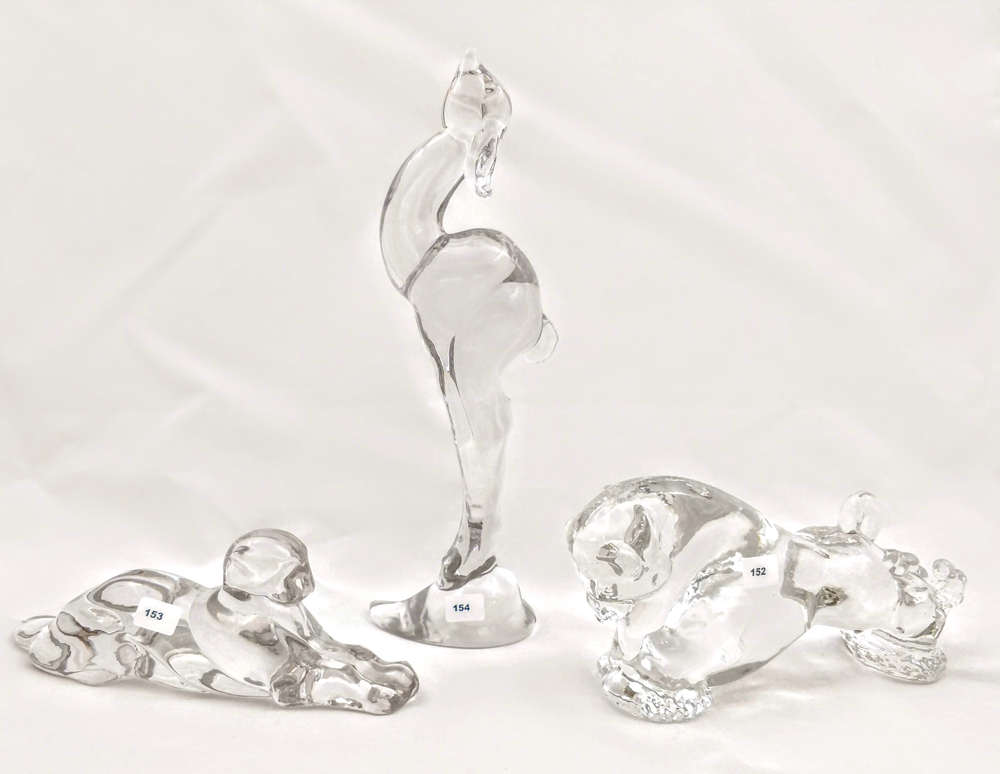 The Dave Spahr Fall Auction has now been cataloged and I can hardly wait to tell you all about it. On October 20, there will be 333 lots offered for sale. Last year's auction was exceptional in its quality, and I can truly say that this year we come very close to that high mark. We have rarities throughout this auction – items which you may have never seen and have never had a chance to purchase. I will list a few of these wonderful items here but be sure to look at the catalog because I just do not have the room to mention all of the great items we are offering in this auction.
The auction starts out with a group of water pitchers and jugs including the rarely seen 464 Ribbon Candy jug (Lot 3) and is followed by 8 Heisey baskets. There are groupings of smoking items (56 – 72) including cigarette boxes in 1183 Revere – 679 Windsor cut (66), Sahara 1184 Yeoman (67), and 1447 Rococo (69). Animals include a 1 Airedale (151), 1 Bull (152), 104 Gazelle (154), and Amber 1540 Plug Horse (156) and 1522 Standing Colt (157). We also have 14 Kingfisher floral frogs in Moongleam (140) and Flamingo (141) and 15 Duck floral frogs in Hawthorne (142) and Flamingo (143). Candlesticks are also well represented including pairs of 1405 Ipswich (43), V-1485 frosted Verlys Saturn (46), a single 141 Edna (45), and 31 Jack-Be-Nimble toy candlesticks in Flamingo (116) and Moongleam (117).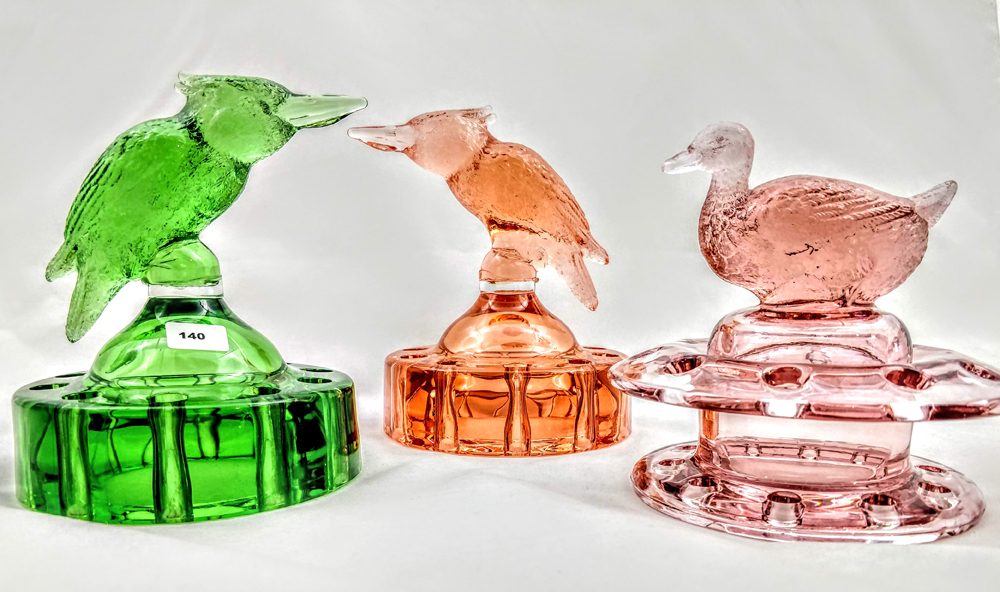 We have pieces in almost all Heisey production colors. Among the special items are a Cobalt 4224 Ivy vase (202), a Moongleam 150 Banded Flute 13" tray (330), and a Hawthorne 3362 Charter Oak tall compote (129). There are 11 lots of Alexandrite (81-91). This auction is especially rich in Zircon and Limelight with 18 lots (299 – 316) including a 1485 Saturn two part relish (303).
There are a good number pieces of stemware including figural cocktails (lots 233 – 235) and a rarely seen 6006 Hourglass cocktail (48). Lots 165-190 offer a number of hard to find cordials including 5086 Plantation Ivy with 516 Plantation Ivy etch (168), 5067 Plantation with 1038 Pine cutting (181), 3389 Duquesne with 813 Pyramids (187), and 3365 Ramshorn (188).
Exciting vases included are a Moongleam 4202 Bamboo (22), 4222 Horseshoe with 5009 Diana carving (209), and a pair of 341 Puritan 12" cut urns made from candy jars (324). Among the nice pieces in early patterns are a 1200 Cut Block celery vase (36). There is a good selection of colognes including a Moongleam 4035 Seven Octagon with 77 Duck stopper (110) and 4043 Johnson (113).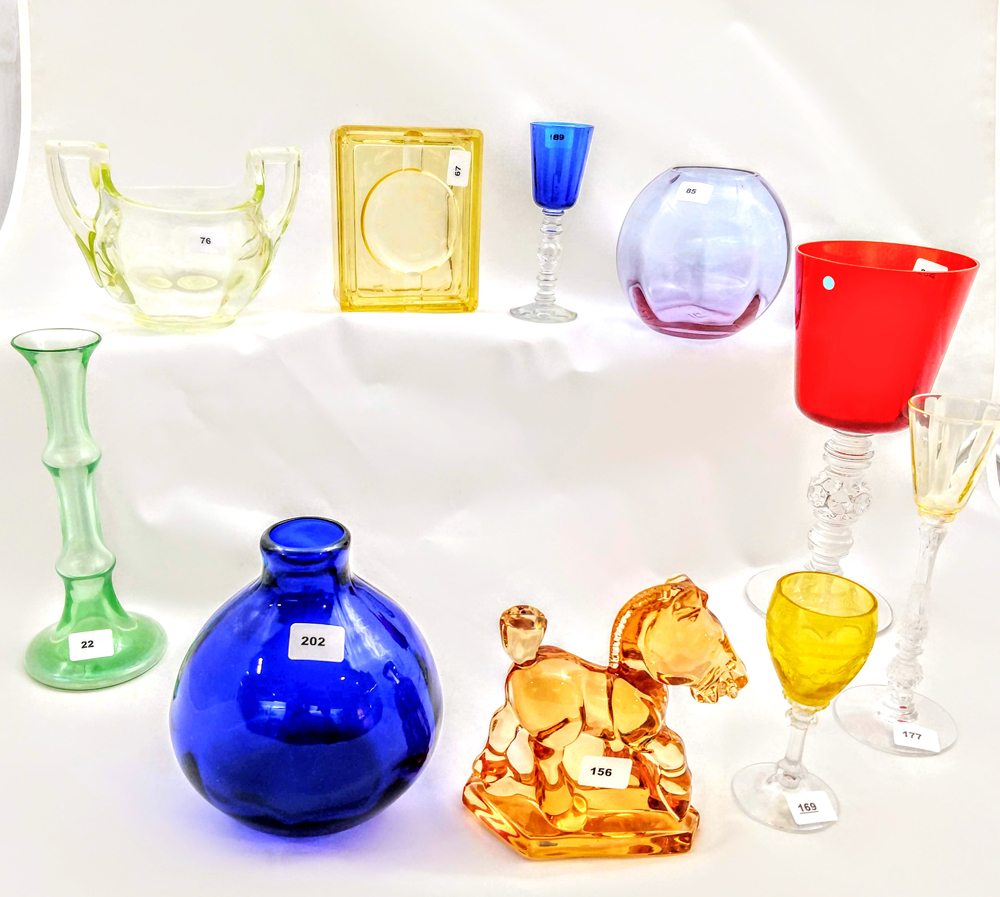 We have a good selection of lighting items in this auction including four electro-portable lamps (325-327, 329) and a 52 Princess lamp on a 5" Classic base (328). A related item is a 1503 Crystolite hurricane with a 300 shade cut 913 Everglades (232).
Other special pieces of note are a 50 Cabochon advertising sign (121), 49 Warehime three tier epergne (320), and a cream and sugar in 1483 Stanhope with 491 Frosty Dawn etch and blue knobs (75).
Space prevents me from listing more but the full auction catalog is available to you in this issue of the Heisey News. Please consider coming to this outstanding auction, or, if you cannot make it, send in an absentee bid on any of the great lots available. I will be there and I hope to see you, too.